Here's some additional information that's handy.
---
We're extremely pleased to offer customers three types of canvas options. Most folks are familiar with the typical Matte and Gloss finishes found on your standard canvas art. However, we wanted to add something new, unique and next level; Breathing Color's Metallic canvas.
This high-quality pearlescent metallic finish is great for all artwork, but is most effective on black and white, and other light colored compositions. Also note that if your art is smaller than 11"x14", metallic can cause unwanted glare which makes it harder to enjoy.
---
Currently we only offer 7 standard canvas sizes. These sizes fit most wall placement needs in your home or office. However, if you need a custom size we're more than happy to help. Keep in mind custom sizes increase cost as well as delivery times.
If you're interested in custom sizing for your new personalized art, please reach out to us. We're happy to help via our 800 number (833-727-3337) during normal business hours, or of course our customer support email (hello@qualitybreeds.com).
---
Rolled Canvas - A rolled canvas is just that, rolled. It does not come with a frame and is not ready to hang. You'll need to frame it with a traditional frame, or have it stretched around your own structure. Because there is not frame, rolled options are cheaper, but keep in mind the price to make it hang-able.
Wrapped Canvas - Our wrapped canvas is hand stretched around a traditional canvas stretcher frame. We don't use automated machines, these are handmade. These 1.5" thick frames are ready to hang from day one, and will stay tight for years to come. These can be framed however for polished look.
---
Because we use your digital photos to blow up and edit them in various ways, we need quality images from your newer iPhone, Android, etc. While we produce 95% of your art by hand in professional software suites, we also use traditional methods on projects that call for it. All of our techniques rely on a good photo to create correctly.
iPhones - The native camera app on new iPhones doesn't really have an image resolution setting. While the iPhone's native camera app works, it lacks many features that can make your photos better.
We suggest downloading an app called Camera+ in the app store, as it allows for exposure and focus options that are very professional looking. We are happy to help look at your photo and see if it will work.
Androids - While we're not sure of all OS versions, most androids we've been around allow you to set the resolution of your photos in the settings. We've included a screenshot to help show you what to look for in your camera settings. Again, if you need help, please reach out. We suggest you increase your photo size as much as possible, not just for our service but also for your keeping. The only reason not to have this high setting is for storage saving needs. We suggest Google Photos to store unlimited photos if you're not already using it.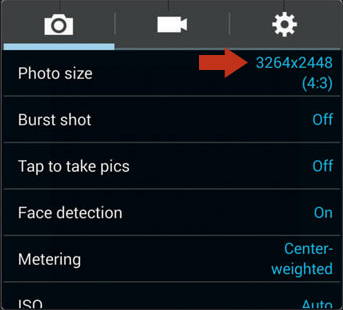 ---
It's important to note that we aren't color matching with this feature. This option simply allows you to get your art in a particular color tone to fit within your home or office decor and design. We've provided the most requested and known colors tones, however we do allow requests and tweaks during your iteration.
Under "Colorization" during your order, select "Custom Color Tone" if you'd like us to use a more specific color. A new text entry will appear for you to enter a 6 digit HEX (i.e. #ffffff) number. You can find the general color you want with this google tool. See the image below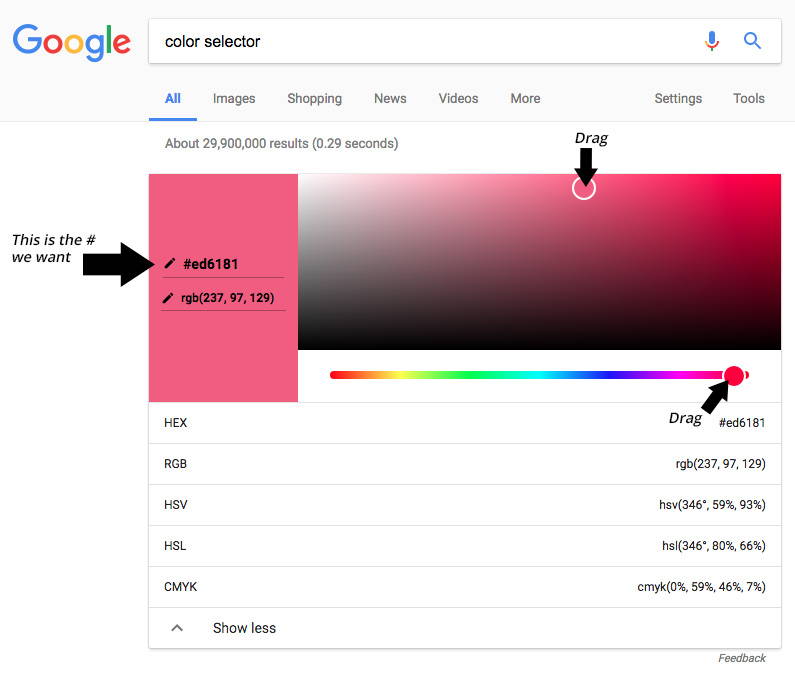 ---
In general, the art we create is left up to our in-house artist's interpretation. However, we understand we're offering commerical art. With that said, we allow you a period after the art is created to request minor changes. These modifications don't have a clear line between minor and major because every piece is different.
Minor alterations include color tone adjustments, blemish removals missed, and other modifications that don't require large changes to subjects and composition. Our artists are seasoned vets with an eye for design and art, so most times we come close the first time. We'll make sure you're happy.